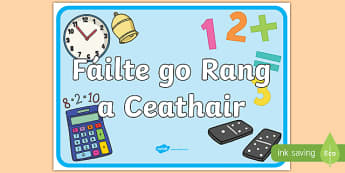 Fáilte go Rang a 4 (1) – Welcome to 4th Class (1)
Notes
Our P.E days for September & October are Monday and Wednesday. Please make sure your child wears runners and their tracksuits on these days. Uniforms should be worn all other times.
Make sure you log onto your Google Account to access some tasks assigned in the Google Classroom. If you are having issues with signing in, please let me know.
Learning so far
September was a busy month. In English, we started off looking at our reading strategies of Predicting and Visualising. The pupils listened to the poem 'The Green Giant' by Jack Prelutsky and using their 5 senses thought about what they could see, hear, smell, taste and touch, They then drew what the giant looked like in their mind's eye.
In Science and Geography, the pupils researched the Green Flags and worked in groups to think about ways we could maintain our green flags this year. They then designed posters to reflect their ideas.
In History we looked at Georgian Architecture in Dublin and really enjoyed the virtual tour of Number twenty nine. We looked at examples of Georgian buildings from around Dublin and then then created our own Georgian houses from cereal boxes.
In Music this week, we worked in groups to create our own piece using a different combination of sounds and instruments and then performed them in from of the class.
For Friendship week, we created our Friendship flowers and looked at our qualities as friends and what two qualities we could improve when we are being good friends.
The class have been working hard at becoming Coding whizzes in their classes with our coding teacher Ailbhe.
In October during our Science Lessons we looked at building materials and what material would make the best damp course. We set up an experiment using everyday materials and tested them making sure our test was fair. The conclusion we came to was out of the materials tested , plastic made the best damp course.
During Maths week, we enjoyed playing games with 1st-3rd class during lunch times and here the class are practising the games and working out instructions in class. We also did our Maths trail indoors due to bad weather and the children enjoyed working in pairs to do their calculations.
This week, we got a chance to go out to the garden and prepare the beds for planting by removing weeds. We will continue to garden over the next few weeks, as the school works as a whole, to get the garden ready for Spring.
We are enjoying listening to the children presenting their musical instruments. Photos to follow.
Have a fantastic and spooky Halloween and hope everyone enjoys the  well deserved mid-term break.
In November the pupils of 4th Class 1 have been enjoying Zumba with Audrey. We have Zumba first thing in the morning on Fridays and it really wakes us up and gets us going for the day!
We worked really hard at our Chromebook Skills to edit and write our Badger Reports using Google Docs and it took a while to get there but with perserverance we suceeded.
The pupils enjoyed drawing their own self portraits but enjoyed drawing their classmates' portraits even more.
As the opposite lessons to Coding, the pupils of both 4th classes worked together on Stem Challenges to build catapults and parachutes in groups using their Science, Technology, Engineering, Maths and team working skills. They had an opportunity to test and improve their designs.
December was a busy month and a huge congrats to the class who did such a fantastic job in their Christmas Concert.
To the children who took part in Gaeilge 24- Comhghairdeas!! They all received their certificate before Christmas.
Happy New Year 2023. Welcome back everyone and I hope everyone had a relaxing and joyful Christmas. Since we have returned we have been creating New Year's Art with the Dublin Skyline and fireworks.
We played some Maths games to get our brains back in Maths mode after Christmas.
And we have started Irish dancing and gymnastics as our PE focus this term. The children enjoyed their reel steps on Tuesday.
IMG_1368 IMG_1369 IMG_1370 IMG_1371
The rest of January has been busy.
We worked in groups to put together and label a  human skeleton learning some interesting facts about bones and their names.
For our second Try 5 workshop the children created their own Terenaiums which they will be able to take home with them in the next few weeks.
This week was Well-being week and we meditated,made a Gratitude Tree to reflect on all the things we are grateful for in our lives. Families came top of everyones list. The school also went for a Wellbeing walk. We got some movie and popcorn in before the long weekend as a treat too.
.
We made St Brigid's Day Crosses on Wednesday which was challenging but fun!
During Term 2 we had the sculpture  the "Ark" by John Kindness in the school and the children had the opportunity to observe it, discuss it and respond to it through collage and drawing.
We were very excited to visit Miss Brannigan's Junior Infants to meet their chicks and the children enjoyed catching up with Miss Brannigan.
During Seachtain na Gaeilge we took part in dancing, orienteering, drama and we particularly enjoyed our trip to Senior Infants.
This term the children worked hard on their oral presentations on their favourite book for World Book Day and their Nelson Mandela projects. The projects took the form of song, power points, Art and even some Scratch projects.
Term 3
After the lovely Easter break Term 3 started off busy and stayed that way.
During the first week we had Bog in a Bottle where the children learned about the plants and animals in the Bogs of Ireland and how important that Ecosystem is to our country and planet.
We also had our trip to the Little Muesum of Dublin.
In our fourth Try 5 Workshop, the class built propellers that generated an electrical current.
Science Week kept us busy with a range of activities including learning about bees, life saving and the big science quiz.
We have had some new members of class. Tortoiseshell Butterfly caterpillars and the children have enjoyed watching the life cycle unfold in front of their eyes. Their big release into the wild is coming soon…