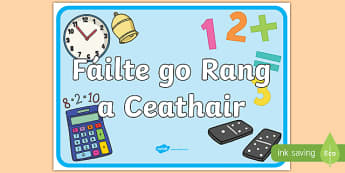 Fáilte go Rang a 4 (1) – Welcome to 4th Class (1)
Word Wipeout – Spelling and Litriú practice
The children are enjoying Ms.Judge's new spelling practice game in pairs. They throw a dice and spell the word that corresponds to the number from the weekly spelling list using their whiteboard marker. If their partner rolls the same number they have a chance to steal the word from them, if spelled correctly. The children give the game 10/10 and enjoy it for both spellings and litriú (Irish spellings). Maith sibh a pháistí!!
Drawing from Observations
Friendship Week 
The children really enjoyed our week long celebrations for Friendship Week.
Their favourite activity of the week is pictured below which was a simple idea but very effective. In doing this activity the children communicated to each other their favoruite aspects of one another's personalities or highlightling their talents and gifts as seen in the eyes of others.
Each child decorated their own sheet with their name. The children then walked around the room quietly and wrote in some positive compliments about their classmates. The chidlren really enjoyed the lovely comments left by their classmates.
Pac-Man and Halloween Dress Up
The chidlren really enjoyed the Warm Up game 'Pac-Man' in PE so Ms.Judge was absolutely delighted when a student dressed up as Pac-Man for Halloween dress up day (home made and all).
At the end of the day the children even got to play their favourite game and Pac Man was released onto the Main Yard !!!!
'Yarn Bombing' Inspiration
Zumba and Hip Hop classes
Dia de Los Meurtos/Day of the Day and All Souls/All Saints Day
The children drew sugar paper skulls (photo below) and made clay skulls and decorated the skulls with paper flowers that they also created from crepe paper and pipe cleaners.
Climate Action Lessons with EPA and Junior Achievement
Journeys and Colour Mixing (Tones and Shades)
Gaeilge 24 – Lán le Spraoi! 
Ghlac na páistí páirt in imeacht taitneamhach (ach dúshlánach!) chun Gaeilge amháin a labhairt ar feadh 24 uair a chloig! D'éírigh go hiontach leis na páistí a ghlac páirt sa rang. Bhí an lá é féin lán le craic, spórt agus spraoi. Rinne na páistí ceacht eolaíochta trí Ghailge (faoin gcorp) agus Mata trí Ghaeilge (cruthanna 2T agus 3T). Bhí corpoideachas agus ealaín trí Ghaeilge freisin. Maith sibh a pháistí as Gaeilge den scoth a labhairt i rith an lae! Tá Ms. Judge agus bhur dtuismitheoirí thar a bheith brodúil asaibh 🙂
The children toke part in an enjoyable event (but challenging!) to speak only Irish for 24 hours a day! The children who toke part did so well! The day itself was full of craic, sport and fun! The chidlren did a Science lesson through Irish (about the human body) agus Maths through Irish (3D and 2D shapes). The class also did Art and PE lessons in Irish. Well done a pháistí for speaking Irish during the day! Ms.Judge and your parents are really proud of you all 🙂  Please see the class below even doing some movement breaks in Irish!
History: Irish Homes Throughout the Ages
Our Georgian Houses Cereal Box Creations
Tá an Nollag buailte linn a pháistí!
Peace in all of the languages in our class! 🙂
As well as celebrating the Feast of The Immaculate Conception (December 8th) in Religious Education, the children learnt about the angel appearing to Joseph. We remember fathers during this Advent period.
We wish everyone a peaceful Advent and lead up to the busy Christmas period. We pray for peace all over the world and to keep all our family members safe. The children also collected items for a homeless food appeal collection in conjunction with the Student Council.